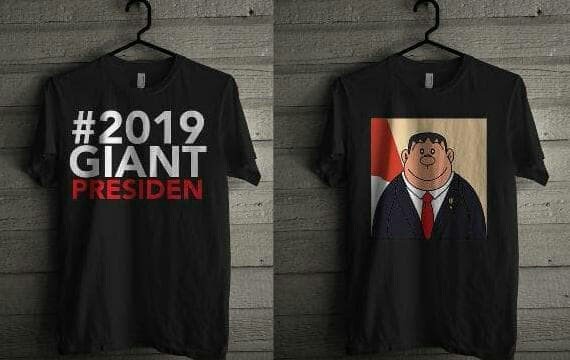 by Sita W. Dewi and Gisela Swaragita
The Jakarta Post
http://www.thejakartapost.com/news/2018/05/01/why-an-anti-jokowi-hashtag-could-be-his-strongest-foe-so-far.html
The #2019GantiPresiden (#2019ChangePresident) campaign has been the talk of the town both online and offline and is set to become President Joko "Jokowi" Widodo's strongest faceless enemy in his reelection bid next year.
The hashtag, which began in early April, is believed to have made its first public appearance when Mardani Ali Sera, a politician from the Prosperous Justice Party (PKS), distributed rubber bracelets with the hashtag on a TV show. Mardani was part of the success team for incumbent Jakarta Governor Anies Baswedan and his deputy Sandiaga Uno, while his party, PKS, is one of Jokowi's strongest opponents.
T-shirts printed with the hashtag have also begun to be sold everywhere. The offline campaign made headlines over the weekend when a group of anti-Jokowi activists wore the t-shirts during the supposedly politics-free Car Free Day event on Sunday in Jakarta.
In the first two weeks of April, at least 110,000 mentions of the hashtag were recorded on Twitter, far exceeding the 18,000 mentions of the counter-hashtag #Jokowi2Periode (#Jokowi2Terms), according to big data company Drone Emprit.
Jokowi initially downplayed the campaign, suggesting in an April 7 speech that such smear campaigns alone were not enough to challenge him. "…can a t-shirt unseat a president?" Jokowi asked around one thousand of his supporters in Bogor, West Java, adding that, "Only God and the people can do so."
The statement, however, backfired as big data analysis showed it only triggered more use of the hashtag. "Before [the April 7] statement, the hashtag [#2019GantiPresiden] was mentioned a maximum of 7,000 times a day. But a day after the statement, the number surged to 37,000, a 300 percent increase," Drone Emprit founder Ismail Fahmi told The Jakarta Post on Monday. On the back of the hashtag's popularity, #2019GantiPresiden t-shirts also sold quickly on online marketplaces and offline. The prices of the t-shirts vary, from Rp 60,000 (US$4.32) to Rp 125,000.
More politically apathetic netizens jumped on the heated campaign, popularizing satire hashtags such as #2019GantiBojo (#2019ChangeSpouse), #2019GantiRakyatnya (#2019ChangeThePeople). One parody contains the anagram of "ganti": #2019GiantPresident (#2019GiantForPresident), referring to Giant, a character from Japanese cartoon Doraemon.
Ismail said the hashtag created an effective anti-Jokowi narrative because it served as a uniting language for those opposed to Jokowi, regardless of their political affiliations or other intellectual backgrounds. "Jokowi's supporters also created hashtags to counter the #2019GantiPresiden campaign. But they weren't as effective because they didn't create a single and strong hashtag," Ismail said, citing pro-Jokowi tags such as #Jokowi2Periode, #2019TetapJokowi (#2019StillJokowi) and #DiaSibukKerja (HeIsBusyWorking).
Social media consultant PoliticaWave founder Yose Rizal shared this sentiment, saying that the lack of one uniting hashtag was the main factor behind the pro-Jokowi camp's failure to counter the latest anti-Jokowi campaign before it snowballed.
Yose added that it was only natural for the Jokowi camp and its supporters to try to promote different messages at the same time, using different hashtags.
"As an incumbent, [Jokowi's camp] has different programs and activities to promote. He also speaks different 'languages' in his official visits to different regions in Indonesia. Meanwhile, the opposition only has one single agenda: to defeat Jokowi in the 2019 presidential election," Yose told the Post.
However, there is a limitation to the anti-Jokowi campaign. "Their campaign stops at #2019GantiPresiden. They have yet to offer anything other than that, such as an alternative candidate or alternative programs for example. They also can't claim any achievements now of course. The presidential election is one year away, so anything could change," he said. Those hoping to see a change in the presidency would eventually want more than just an emotional anti-Jokowi campaign, Yose said.
To date, several names have been touted as potential presidential candidates, including Jokowi's rival in 2014 Prabowo Subianto and former military commander Gatot Nurmantyo, but they have yet to officially declare their bids despite having made their aspirations public. Jokowi is currently considered the strongest contender in the 2019 presidential election. The former Jakarta governor has topped popularity surveys and holds an over 50 percent approval rating.
However, social media-driven campaigns have proven effective in taking down politicians, as shown by the defeat of former Jakarta governor Basuki "Ahok" Tjahaja Purnama, who lost to rival Anies in the second round of the election, despite garnering the most votes in the first round. Anies began with an unconvincing electability record but came out victorious after he, in the words of political analysts, "rode the wave of the Islamist movement". The Islamist movement was massive online and offline and while its anti-Ahok message was loud and clear, the movement never clearly declared its affiliation to either Anies or Agus Harimurti Yudhoyono, the other contender in the 2017 gubernatorial election. Observers have warned about the influence of social media-driven campaigns. In Indonesia, which has a population of 250 million people, more than 100 million citizens have access to the internet, with about 90 percent regularly using social media platforms to express themselves and to communicate.
"Social media-driven campaigns are the easiest. You could create something in Jakarta and see the message reverberate in Aceh, Papua and other regions. It's simply borderless," Yose said. Before the official presidential campaign period begins, many presidential hopefuls and members of the anti-Jokowi camp will make use of digital campaigns. "It's not necessarily about hashtags, but an effective and consistent idea as a mass communication tool," Yose said.